Are You Smarketing?
S

trategy marketing

M

anagement of budget

A

wareness of competitors

R

elationship building

T

ime allocation
If you aren't, you're losing money. Call me directly to find out if you're doing it right or if you're missing major profit potential.
Marketing Solutions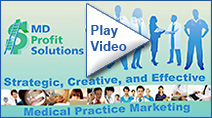 Click to Play Marketing Video
Responsive Marketing: Creating interest and value while engaging patients with knowledge and must-haves
Creative Marketing: Delivering exciting and impressionable communication
Relationship Marketing: Building a connection and servicing your valued patients
Value Marketing: Budgeting and eliminating wasteful spending

Some important statistics to consider
when marketing your elective and cosmetic procedures…
"Americans spent nearly $10.7 billion on cosmetic procedures in 2010. 83% of total procedures performed were non-surgical."
"As the popularity of non surgical and minimally invasive procedures continues to grow, surgeons and manufacturers will develop new techniques and products that advance the science, produce even better results and lessen recovery time."
"The growth of cosmetic injectables is increasing as products continue to evolve and new players enter the market."
"78% of women in the U.S. use the Internet for product information before making a purchase."
"Women account for 85% of all consumer purchases including everything from autos to health care."
"The discretionary spending power of 50+ women soars by 2.5 times what the average person spends. Women are the primary buyers for big-ticket categories."
"The Baby Boomer Generation has more money, leisure time and technology than any other generation in history."